SARS-CoV-2 genomics and the growing need for real-time data.
Wisconsin State Laboratory of Hygiene Kelsey Florek, PhD, MPH October 15, 2021
Slides live at:
www.k-florek.net/talks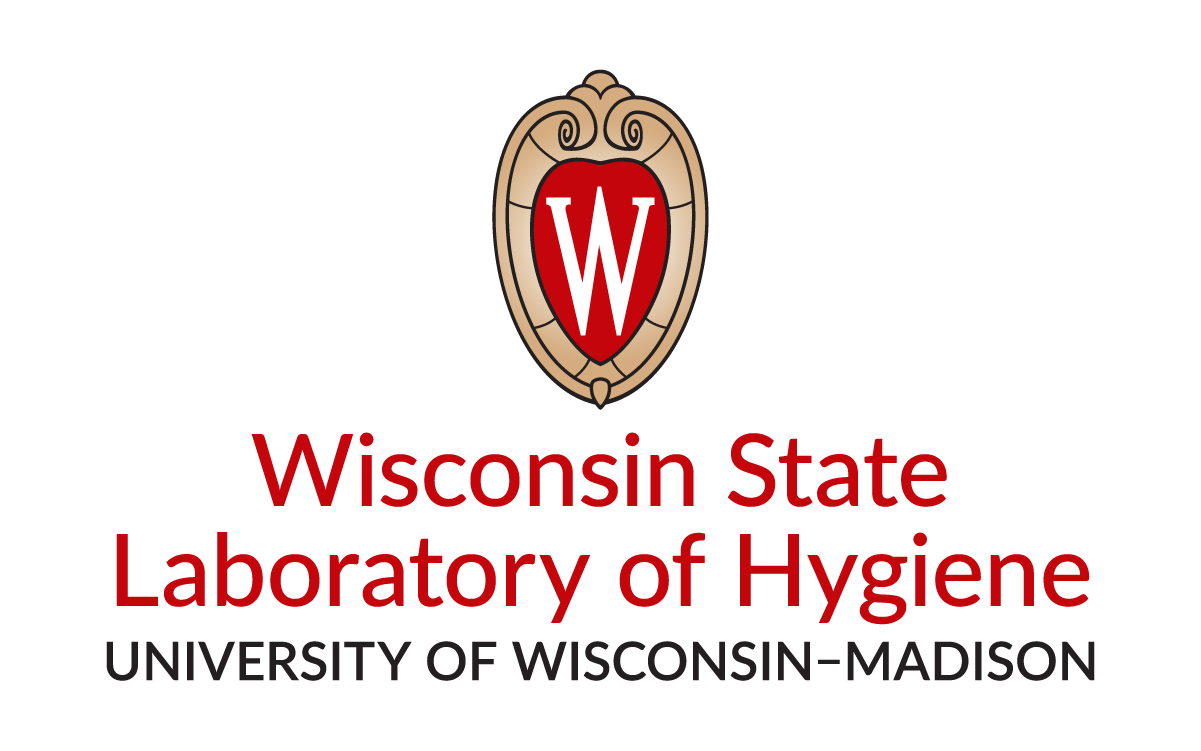 Effects of Mutations
Synonymous Mutation - A DNA/RNA mutation that does not change the encoded protein sequence.
Non-Synonymous Mutation - A DNA/RNA mutation that does change the encoded protein sequence, potentially resulting in a change in structure or function.
---
Comparing non-synonymous mutations to synonymous mutations helps us examine the balance of neutral mutations to beneficial mutations and infer selection.
Positive Selection vs Purifying Selection
Positive Selection - promotes the spread of beneficial alleles; dN/dS > 1
Purifying Selection - hinders the spread of deleterious alleles; dN/dS < 1
Influenza H3N2 HA - example of adaptive viral protein: dN/dS 0.37
Rapid adaptive mutations in Spike protein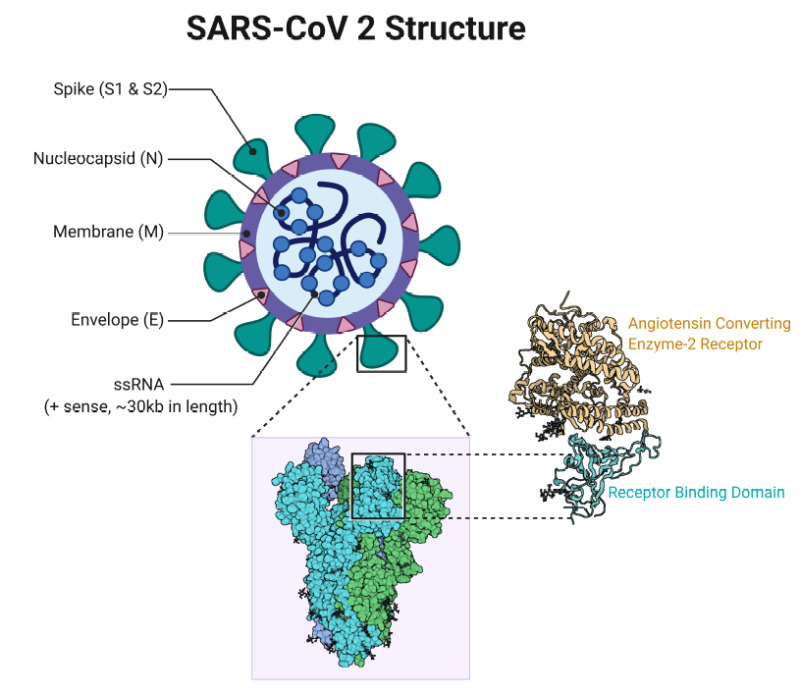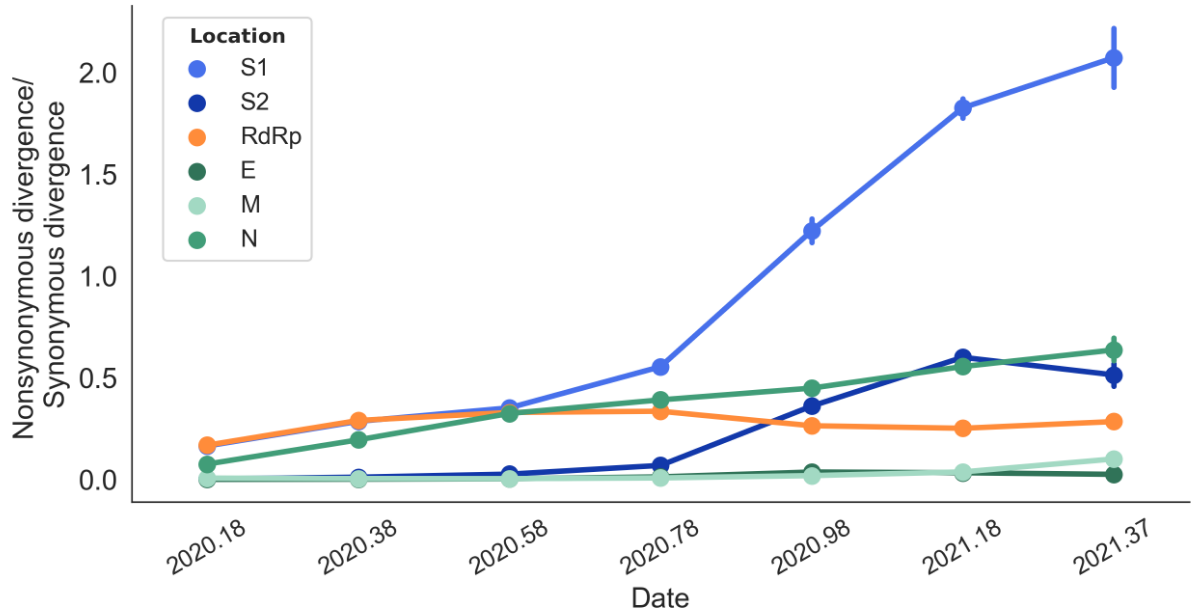 What this could mean
Hypothesis 1: A new selective pressure is acting on SARS-CoV-2 resulting in the appearance of new mutations.
Hypothesis 2: Mutations have altered the spike protein making it more permissive to additional mutations.
---
"The potential antigenic impact of adaptive S1 mutations, which are accruing at pace over 4 times that of influenza H3N2, suggests that it may become necessary to update the SARS-CoV-2 vaccine strain given the virus's demonstrated propensity for adaptive change."
The Takeaways
Likely in the midst of a global Delta selective sweep.
The Delta lineage may be following a similar pattern to influenza H1N1pdm with a host adaptation phase followed by a sustained antigenic drift.
Continued genomic surveillance will be needed to monitor for the emergence of mutations that convey vaccine/antiviral breakthroughs, increased transmission, or increased virulence.
SARS-CoV-2 Surveillance Genomics at WSLH
SARS-CoV-2 Sequencing is a collaborative effort

SARS-CoV-2 Sequencing is a collaborative effort
SARS-CoV-2 Cases Sequenced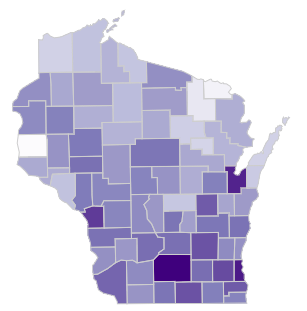 Sequencing Data Generation

Digesting Complex Data for Public Use
Phylogenetic trees are useless...

How many have we sequenced?
Where is the XYZ variant?
How many sequences are XYZ variant?

Near real-time summary data!
Dashboard Data Infrastructure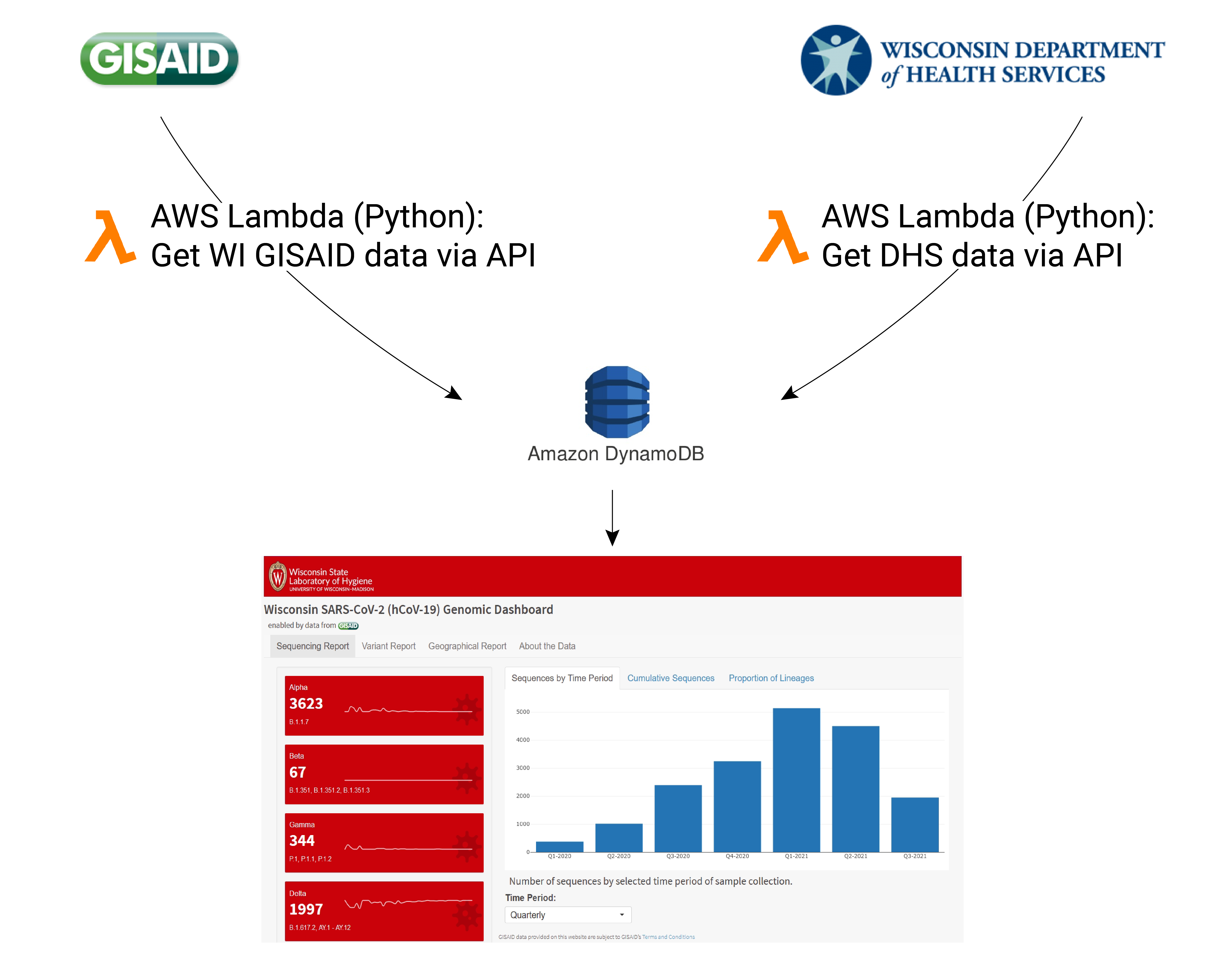 Dashboard Data Infrastructure
Uses an accessible data analytics language R.
Somewhat limited in design and implementation.
Completely automated!
Dependent entirely on publicly available data served through 3rd parties.
Building a Genomics Data Warehouse
Central repositories of integrated data from one or more disparate sources used for reporting and data analysis.